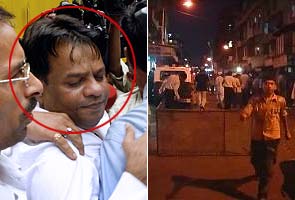 Mumbai:
Iqbal Kaskar, brother of underworld don Dawood Ibrahim, was today shot at in Mumbai.
Kaskar escaped unhurt but his bodyguard, Arif, was killed in the attack. His driver too was injured.
The incident took place near JJ Hospital in south Mumbai.
The Mumbai police have detained two people in connection with the incident.
"Two persons were caught by the locals while trying to flee from the spot and were handed over to the police", said Deputy Commissioner of Police (Operations) Rajkumar Vatkar.
This is the second instance of an attempt on Kaskar's life, the first one being in 1986 where a rival gang was involved. The fresh attack is also believed to be the handiwork of a rival gang.
Kaskar is an accused in the Sara Sahara mall land-grabbing case. He, incidentally, is also Dawood's only sibling to be tried by an Indian court.